Thackeray (ठाकरे) Movie
Thackeray is an Bollywood biographical drama film, based on the life of Bal Thackeray (बाळ केशव ठाकरे), the founder of the Indian political party Shiv Sena (शिवसेना). It is being directed by Abhijit Panse and has been written by Shiv Sena politician Sanjay Raut.  Nawazuddin Siddiqui plays the titular role of Bal Thackeray and Amrita Rao plays his wife Meena Tai Thackeray. The official trailer will be releasing on 25th December, 2018.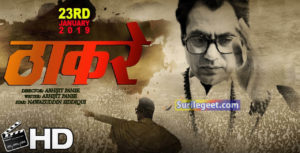 The biopic is scheduled for release on 25 January 2019, the 93rd birthday of Bal Thackeray (बाळ केशव ठाकरे).
Movie : Thackeray (ठाकरे)
Music : Abijit Vaghani
Stars : Nawazuddin Siddiqui and Amrita Rao
Director : Abhijit Panse
Producers : Viacom18 Motion Pictures, Shrikant Bhasi, Varsha Raut, Purvashi Raut and Vidhita Raut
Writers : Sanjay Raut and Shrikant Bhasi
Release Date : 23 Jan. 2019
Enjoy The Superhit 'Thackeray' Hindi Trailer
Enjoy The Superhit 'Thackeray' Marathi Trailer
Thackeray (2019) Movie all songs lyrics
1) Aaple Saheb Thackeray Song Lyrics – Thackeray (2019) Marathi Song
2) Aaya Re Thackeray Song Lyrics – Thackeray (2019) Hindi Song